As 2021 comes to an end, we try not to reflect on the past 12 months as much as we'd like to look forward; it's been rough to say the least. From staffing shortages to supply shortages and skyrocketing prices, we can't wait to move on to greener pastures. So as opposed to a lengthy recap, we'll opt to discuss what's currently going on and what's to look forward to!

 At our Austin location, we want to give a big thank you to General Manager Jackie Diaz who's been with us since day one in 2014 and welcome to the team Travis Vegera as our new GM! Travis brings with him extensive hospitality experience and we couldn't be happier to work alongside him.

 Raw prime brisket prices continue to rise but show possible signs of leveling off around the $5.00lb price tag. For those of you that don't know how barbecue restaurants determine the price of brisket for sale to you across the counter, look for a follow up blog post on our Cost of Goods Sold (COGS) brisket in the future. Pork ribs have slightly dropped in raw price and seemed to have leveled out for the time being. Turkey unlike our other meats, are frozen and therefore have less price fluctuation throughout the year. They sit at an all-time high and shows no signs of dropping anytime soon. Beef ribs, like brisket, show signs of leveling off but still sit near their peak price- which occurred around the time of businesses opening back up from Covid shutdowns. Groceries are still hit or miss some weeks as to what you can and can't get. Plastic water cups have been the oddest item we haven't been able to get. It's not just us though, Buc-ee's and the University of Texas found themselves using the same paper Coca-Cola cups as us for a week. With that being said, I'm optimistic the supply chain will work itself out in the next year barring another shut down of some sort. Need we not forget that we live in global economy and rely on other countries for a variety of items, whether it's spices from India or foil from Russia, the list goes on and on; so we need others around the world to stay open for business as well.

 Our Austin location continues to stay busy with lines wrapping around the BBQ pit house, so we're working on improving the customer experience while you wait in line. More options to purchase beer, a cool neon sign is in the works, food samples and a few more surprises are coming soon! We look forward to a slight remodel of the interior serving area as well. Another cutting block, improved line queue and more efficient seating will take place in mid-January. O and an improved parking lot is happening as well!  

 Our Dallas location which opened in November of 2019 continues to cook great barbecue, gain loyal customers and get busier as each week goes by. Texas Monthly just recognized Terry Black's Dallas as a Top 50 BBQ joint in Texas! If you're up to speed on all things Texas BBQ, you know what this means. If you're not, this is a very prestigious honor! The list only comes out every 4 years and is the top list in the country when it comes to thorough reviews on BBQ in the state of Texas.

 What else is on the horizon for team Terry Black's you ask?! A new location in our hometown of Lockhart! We couldn't be more excited to go back home, restore our family name and bring high quality barbecue bearing our last name to Lockhart. Which just so happened to be recognized by the Texas State legislator in 1999 as the Barbecue Capital of Texas. We're looking at around a 6 month build out, so early July would be my best guess as to when we're officially open for business. I'll make sure I update the blog and send out an email blast the closer it gets to opening. So, if you haven't already signed up for our email marketing blast, you can do so at the bottom of our website homepage, and we would appreciate if you did!

 Our Driftwood winery project continues to make progress and the wine is tasting amazing! If you're a fan of fine wines, I think you'll love what wine maker Phil Price has been producing for the last three years! Look for a separate post at some point talking all things wine and more... This project is a big one and there's lots of cool things going on that we're excited to share with you in the near future!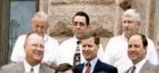 As always, thanks for taking interest in our family business and all things Terry Black's!

Happy Holidays and a New Year to you and your families!
-Mike Black