I will answer the ever so often asked question, "Who makes your pits?" and briefly talk about the barbecue pits that we own and operate. Note, I'll follow up at some point with a more in-depth blog post on how our offset smokers work and the difference in them, although they were built the same way. I'll make sure to include plenty of fire management tips and tricks as well.
Our Austin location has five 1,000-gallon decommissioned propane tanks which we've turned into offset smokers. Four of these pits were made by a friend when we originally opened back in 2014. All four run very well but will have some heat loss in some of the door seals and tend to use more wood due to an inefficient firebox design. Keep in mind that all four still yield a very high-quality product and I wouldn't replace them. They're seasoned (which is definitely a real thing!) and we've learned to cook on them and love them. The fifth pit was made by Sunny Moberg of Moberg smokers out of Dripping Springs, Texas. If you know Sunny and his attention to detail, you know it's a well made pit. I can't say enough good things about Sunny, maybe I'll dedicate a post to him one day :) If you'd like to see his pit on display, stop into our pit room on Barton Springs Road in Austin, Texas and ask to see the "Moberg Pit" which we simply refer to as Pit #2.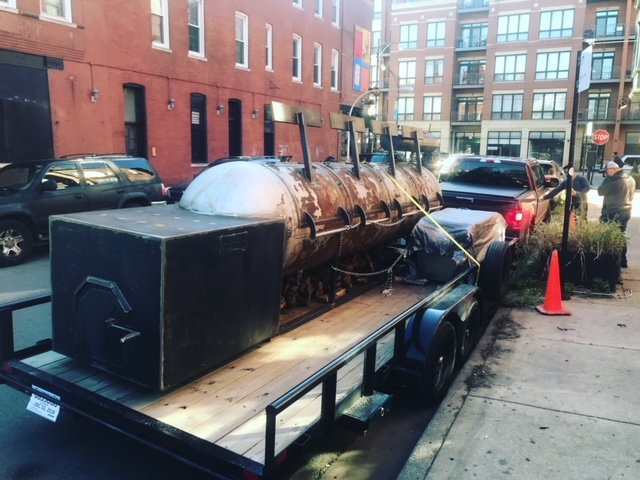 In 2019 we expanded the Terry Black's Barbecue brand to Dallas, Texas in the Deep Ellum neighborhood. We have five Moberg offset smokers on-site there. As you can see, we like Sunny and the BBQ pits he makes! Feel free to drop in and check them out any time as well, we are open 7 days a week. You might notice one firebox (pit #2 in Dallas) is slightly lower than the others and that's because it was a pit we used on a trailer for events before opening Dallas. We asked Sunny to slightly raise the other four fireboxes to make them easier to work on a day-to-day basis, opposed to off of the back of a trailer which has a step up. Don't tell him I told you this, he's got his design and it works! ;)
We've also got two 1000-gallon travel pits on trailers made by JD and his team at Primitive Pits out of Coal Mountain, Georgia. Mark and I both love these pits as well. Primitive puts out a great pit and I highly recommend it. JD is passionate about barbecue and business and does a great job meeting customer's demand and timelines.
If you are looking to buy a BBQ pit, whether a 1,000-gallon tank or smaller backyard pit; based on our experience, you can't go wrong with Moberg or Primitive Pits. With that being said, there are so many other BBQ pit makers putting out quality pits these days that I would suggest doing some research and calling around to see who can meet your deadline and expectations. Mill Scale Metalworks out of my hometown in Lockhart, Texas or Backline Fab out of Dripping Springs are two others that I know or have spoken with and are putting out very high-quality pits and are just damn good people.
-Mike Black